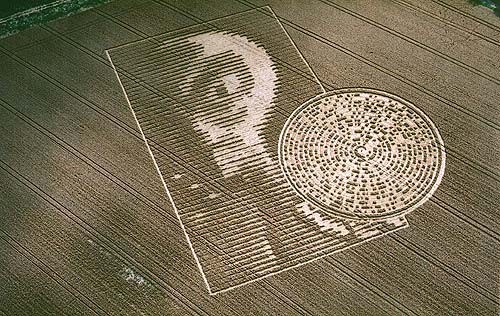 The first blog entry here, not so long ago (last fall) talked about the possibilities of the paranormal. I guess this is just a continuation. UFO's, crop circles, alien abduction, exorcisms; all of these things used to tickle my imagination. Don't get me wrong! They still do. It's just that they no longer captivate me for hours on end anymore. I remember finding a quiet place at the library in elementary school. Beside me lay a pile of UFO, alien, and bigfoot books. Isaac Asimov also remained close to my side as I learned about each planet, each solar system and the future of space travel. I'd often tell other 2nd graders horror stories, alien abduction accounts and warned them that spirits could be everywhere, so watch out! Naturally, I didn't have too many friends after scaring half of them off. Those who stuck with me also seemed to share a flare for adventure and mystery. But anyways, all of this is really just me rambling about how much the paranormal genre has permeated through my life. 
So this blog, every once in a while, will poke at that genre and see what happens. Take this for instance:
It's a little compilation of different crop circles. The intricacy is truly remarkable, and these things pop up quietly over night. On occasion, the owners of the property report seeing strange "Lights" dancing over the field, only to find massive and perfectly formed geometric shapes on their farm the next morning.  According to Wikipedia, crop circles date as far back as the 17th century. Here is the
story
and the picture of the infamous
"Mowing Devil."
Although some men have confessed to making these,
Doug Bower and Dave Chorley made their crop circles using planks, rope, hats and wire as their only tools: using a four-foot-long plank attached to a rope, they easily created circles eight feet in diameter. The two men were able to make a 40-foot (12 m) circle in 15 minutes.
The phenomenon itself can't be discredited so easily, as weird evidence begins to pile up that just doesn't make sense conventionally. For instance, the amazing intricacy of the crop circles, with perfectly formed geometric shapes, suggest that a simple wooden plank would not do the trick. If you take a look at the first image in the blog, of the alien holding a disc up towards the viewer - this is a real crop circle! Appeared overnight. There is something bizarre about this one, as it appears to have a "3D" effect. Considering the scale and the detail in creating this, either the hoaxers have created a new and elaborate system in which every shape is created in perfect geometric harmony, or something equally as strange is going on. To add to the mystery, many of these detailed crop circles, when examined under a microscope, have shown signs of microwave energy. That's right, as if the plants were pushed down by a microwave blast. Bizarre, no? I'm trying to find the source for this information. I saw it on T.V. a few years ago, and more recently it was noted in
Daniel Pinchbeck's "2012; The Return of Quetzalcoatl"
So what does it all mean? Who knows. The crop circle phenomenon is not so much a problem as it is a mystery. Whoever creates these has mastered an art form, creating complex geometric symbols, meaning and mathematics in these works. They inspire thousands to wonder, and perhaps, for now, that is at least a start. If only the media would cease turning a stubborn eye from the mystery, and dabble in true blindness of the unknown. That's the great thing about all of these mysteries, they test our arrogance, and reveal to us our ignorance. They invite us to accept the unknown as something that we cannot necessarily master or know. They tempt us not to create new ideologies, but to reflect on how we often become trapped in them. At any rate, that's it for this paranormal journal. See you next time!